To date, 2016 has been a challenging year for semiconductor sales, and global macroeconomic headwinds continue to hinder sales growth (read Brexit, slowing growth in many major economies, especially China). The table below shows monthly sales, on a three-month-moving average basis, through May (circled in red) compared with monthly sales tracking for the seven previous years. Monthly sales through May have been consistently lower than totals from both 2014 and 2015 through May.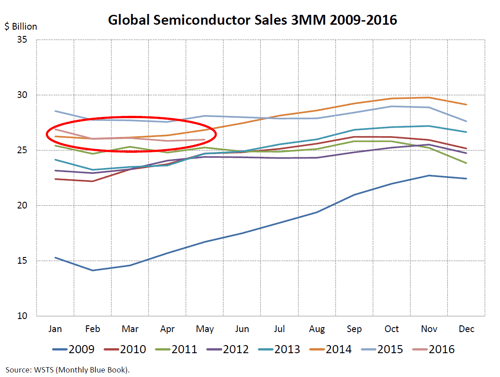 In June, WSTS revised its 2016 forecast down to negative 2.4 percent from its December 2015 forecast of 1.4 percent. We have seen several other downward forecast revisions for negative 2016 industry growth including from Gartner, IC Insights, and Semico.
Given the challenges thus far in the first half of 2016, what should we look for from the June release that might portend stronger second half sales? It will be important to see how second quarter sequential growth compares to WSTS's forecast of 2.1 percent growth. To exceed this growth rate, June 2016 monthly sales would need to come in higher than June 2015 sales (but need not exceed sales from the highest June on record which was June 2014). If this occurs, the industry could be well positioned to make up ground in the second half.
But how, specifically, can this happen? One area of potential recovery could be developments in industry supply fundamentals, including constrained capital spending (coupled with recent record consolidation). One of the factors hindering sales growth over the past year has been downward pricing pressure due to excess capacity and inventories.
As capital spending has been constrained and demand catches up with supply, the question is will this translate into price firming and stronger sales in the second half of 2016? If so, this could counter soft demand and challenging macroeconomic fundamentals and lead to a second-half sales rebound. What is still uncertain and also worth gauging in the second half is will a rebound be enough to overcome WSTS's negative growth forecast or even result in positive growth for 2016? Stay tuned, all will be revealed over the next six months!
keywords:semiconductor, market, statistics, data